An email landed in my inbox this morning announcing that it was a year since my first Parkrun. It motivated me to write about my past year in running, and to ponder on volunteer communities.
I am a late convert to running, though I ran a lot in my teens (I did some cross-country for my school, and also orienteered for several years, running in national championships and being trained as part of the Cheshire Schools set-up). Competitive cycling then took over, and I raced for clubs in Cheshire and Leicestershire into my 20s. After a 10 year gap and a move to London, I resumed regular cycling in the late 1990s, and, despite an interruption due to a broken wrist, continued to ride regularly with the Woolwich Cycling Club, and with others (For PRs and others, cycling is the new golf). Then I suffered two major injuries. I tore hip ligaments after a club run tumble onto a concrete kerb, then damaged my shoulder and bruised my ribs after being hit side-on by a Ford Transit. Both injuries required even longer recuperations, and I stopped regular cycling. Without regular exercise, I started to put on some weight, but by walking as much as possible I was eventually able to shed those extra pounds.
C25K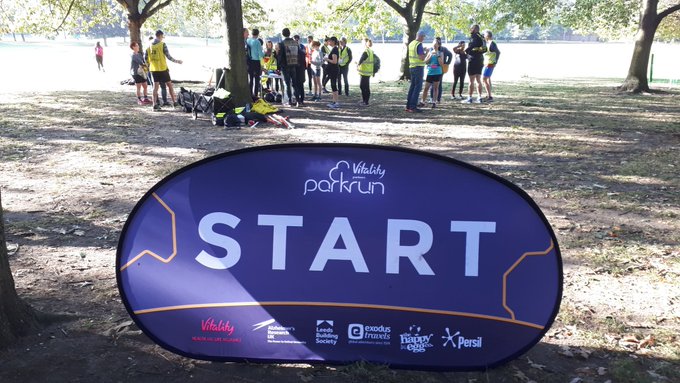 Early last year, a London pub discussion with construction industry friend Duncan Reed turned to the subjects of running and parkrun, and I wondered out loud if it was too late for a 57-year-old to start. Duncan said it was never too late, and suggested I try the Couch to 5K programme. In May, I gave it a go, mainly running in my local Greenwich Park. After nine weeks, my final run – my "C25K graduation" – was a Saturday morning parkrun at Southwark Park. I stunned myself by finishing in under 27 minutes (26:26), but was also surprised by the welcoming and friendly nature of parkrun.
I was hooked.  I returned to Southwark (still nominally my 'home' parkrun, though I have run more often at Victoria Dock), and also tried other parkruns in Southwark, Greenwich and Bexley – even venturing further afield as a "tourist" to run a windswept Morecambe Prom on Leap Year Day, 29 February. In the meantime, I had also run a chip-timed 10K event in Victoria Park, Hackney (51:20) in chilly January, joined an early morning run from an industry conference in Newcastle (running is the new golf!), and then set myself a half marathon target: the Reading Half on 5 April, only for it to be postponed due to the COVID-19 pandemic.
My enthusiasm has not been dented by a couple of injuries. Just a month after my parkrun debut, I sprained my ankle and needed prolonged physiotherapy to return in October (during my recovery, I also volunteered to marshall at Southwark). Later, just as I was gearing up for the Reading Half, and just before the COVID-19 lockdown started, I strained ligaments in my right hip, ending up on crutches for several days. After nearly two months of gentle recovery (no physiotherapy due to COVID), I am now back running regularly again.
Parkrun has, of course, been suspended in the UK due to the lockdown, so I have had to make do with solo runs, and some self-timed "(not)Parkrun" efforts (basically running any 5K route and recording a time). I can also monitor the efforts of other runners – including Duncan, of course, plus many other construction industry friends – connected through the Strava exercise app. Recently another friend (fellow Crewe Alexandra fan Wayne Kercher – also an ex-cyclist and recent running convert) invited me to join a Strava group for "over 40s C25K runners" so I now have some friendly C25K peers to compare notes with via social media.
Update (1 August 2020) – Injured again! Seems I tore a calf muscle pounding the pavements of north Greenwich peninsula last Saturday.
Social communities
I sometimes liken Parkrun to Wikipedia editing. Both are 21st century social communities. Both are free to users, reliant on volunteers, have strong online communities, embrace young and old from any background, share results online, and have expanded internationally (pre-COVID, Parkrun events were held in 22 countries around the world – I was just too late to run one in Singapore last year!). People can do as much or as little as they want; they can get involved occasionally and anonymously; they can award each other accolades ('barnstars' are given in Wikipedia, PBs are noted in parkrun, and you can give Kudos in Strava).
Running social media applications such as Strava, of course, can erode that anonymity (I recently discovered Strava "Fly-bys" where you can see whose routes crossed with your's, for example), but there can be benefits from connecting online and real-life activities. Just as enthusiastic runners can start running together and sharing routes, hints and tips, Wikipedians can assemble in groups comprising both experts and beginners to edit together and share their know-how (as a Wikimedia trainer, I have helped with several face-to-face 'editathons' and also supported online sessions – I recently led a session for the Women's Engineering Society on women in engineering, for example).
Of course, Wikipedia editing (mainly sedentary and solitary) is otherwise very different to an exercise-based group activity such as Parkrun, but both communities show how the altruistic behaviours of volunteers can contribute to benefit a much wider community. It's set me thinking: what other 'free' communities have evolved to become international movements?