Epson's central London pop-up shop gives visitors a space to co-work and to test their new EcoTank printers – which offers the UK's growing population of freelances and SMEs a cost-effective alternative to ink cartridge machines.
Three times (so far) in 2018 I have had to dash out to a nearby supermarket and buy expensive printer cartridges to top up my (Epson) inkjet printer. This printer isn't just used by me in my freelance PR and technology consultancy business – it is also the workhorse for the rest of my family, printing out coursework assignments for two students (one at university, the other in 6th form), and various things for my other half, and I would also like to use it to print out some of the photographs I take. But – as my budding economist son constantly reminds me – drop for drop, cartridged printer ink is more expensive than vintage champagne or blood….
Maybe I will find salvation in Epson's new range of EcoTank printers …. but more about them later
Earlier this week, I attended Epson's UK launch of its EcoTank range (at a pop-up shop at 21 Long Acre in London's Covent Garden – which will be open until the end of October 2018). The event was targeting bloggers interested in home working, freelancing, and start-ups. Having successfully agitated within the Chartered Institute of Public Relations (CIPR) to get an independent PR practitioners' network established (the launch event is on 26 September by the way), I thought I would find out what was being offered.
The EcoTank Pop-up is a combination of retail experience and co-working space. Visitors to the pop-up, which will remain open throughout September and October, will be able to try (and buy) printers from Epson's ground-breaking EcoTank range (Epson normally sells its products through other retailers, rarely dealing direct with the public). As a co-working space for freelancers, bloggers and other remote workers, visitors can expect a collaborative and creative working space with free secure Wi-Fi, access to a kitchen for refreshments and, naturally, unlimited printing.
Epson is also be running a series of daily, expert-led workshops at the pop-up, specifically for freelancers, bloggers, self-employed people, small and medium sized businesses, students and families. These will cover a wide range of useful subjects, from invoicing and branding to GDPR (for a full list of the pop-up's workshops and to book your place, click here). On Tuesday, invited guests were treated to a lunchtime talk by Vicki Psarias, aka @HonestMum blogger, talking about her freelancing experience and about Epson's research into independent working.
One can be the loneliest number
The solo self-employed contributed around £271 billion to the UK government's coffers in 2017, of which around £125–140 billion came from freelancers, and there are predictions that by 2020, half of the workforce will be freelancing.
Epson's research (Meeting the challenges of freelance life), which surveyed 1000 UK freelancers, found that most (91%) worked from home at least some of the time. When asked why they had chosen to freelance or work remotely, respondents said that a better work/life balance (53%) and greater flexibility (62%) were among their reasons; some said they wanted to avoid working in an office, which they found stressful (47%).
There are, however, disadvantages to solo working. While 54% of respondents to Epson's study declared freelance life 'liberating', a striking 48% admitted to finding it 'lonely' and 46% said it was 'isolating'. The absence of an office social life is felt keenly by some; 32% of respondents said they missed office banter and 29% missed being part of a team.
More worryingly, a quarter (25%) of respondents had experienced frequent periods of depression, and around a fifth (21%) claimed that the loneliness of remote working had caused them to have suicidal thoughts. According to the national mental health charity, Mind, at least one in six workers is experiencing common mental health problems, including anxiety and depression – but there are small, simple steps you can take to look after yourself, including:
meeting people – former colleagues, friends, business contacts or fellow freelancers (Epson established its EcoTank Pop-up to help this process – for PR practitioners, of course, the CIPR's new network might help).
joining local networking groups – many towns and regions have business networking groups (some CIPR regional groups also have freelance communities – I've mentioned Wessex's PR and a Pint before).
getting mobile – with the right technologies and apps, you can work more or less anywhere, including areas where people congregate such as cafés and libraries – or Pop-up co-working spaces!
EcoTank: ink subscription service
For anyone running a small home-based business – or even a small office-based business – the EcoTank message sounds pretty compelling. These printers have an ultra-high-capacity ink tank system, which completely removes the need for cartridges and provides hassle-free, low cost printing. EcoTank printers can hold the equivalent of 94 cartridges worth of ink, saving users up to 90% on their ink costs (figures based on an average print volume of 140 pages per month).
Basically, you can buy a printer and then pay a subscription of £9.99 a month for unlimited ink. Looking back over the past couple of years, I have been buying new ink cartridges (a pack of four is usually around £40) about once a quarter, so am spending around £160 a year. If I'd got an EcoTank printer, I would cut my consumables expenses by over £40 per annum.
If you're quick, visitors to the London pop-up  can be in with a chance of winning an EcoTank. Until 5.00pm on Sunday 9th September, Epson will be giving away one EcoTank printer every hour to visitors to the EcoTank Pop-Up. To be in with a chance of winning, visitors need to share a photo that they've taken in the Epson EcoTank Pop-up to Instagram, Facebook or Twitter with the hashtag #EcoTankPopup, tagging @EpsonUK. One winner will be selected at random every hour.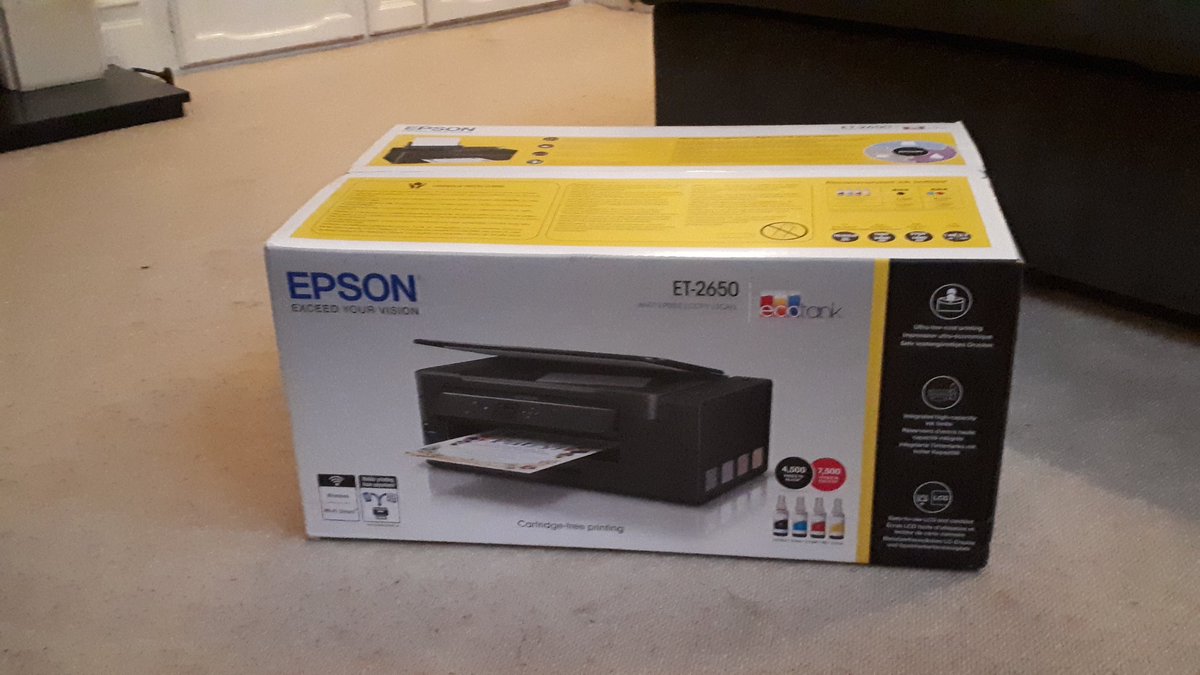 Update (12 September 2018) – Delighted to say that, after publishing the above post and tweeting about the launch event, etc, I received an email from Epson UK telling me I'd won a printer – and it was delivered this afternoon! After carefully unpackaging it, loading it with ink and then doing the software set-up, etc, I now have a fully functioning ET-2650 sitting on my desk. Not only does it print stuff sent from my laptop (and scan and copy), but I can also print documents and photographs direct from my smartphone – my wife was delighted with a photograph taken at a wedding last Saturday – and I'm in the process of setting it up to print remotely. And the silver lining for my university student daughter is that she can have my other Epson printer for use in her shared student house.